Don't Forget...
We Also offer Gift Certificates
For Sale


Join the pack...


Follow:

Investigate:


Watch:


Become a fan:


- O.J. Simpson -

O.J. Simpson "I Want To Tell You" Book

Hardcover, Leather bound FIRST EDITION in custom case, Limited Edition of only 3000 copies


These books were hand signed by O.J. Simpson and then numbered and factory sealed in shrink wrap
by the publisher, Little, Brown & Co. with Orenthal Productions. These books are Guaranteed
Authentic - the O.J. Simpson Autograph will pass PSA/DNA or any other third party authentication service.

The Original issue price of these books was $295.00 each back in 1995. They were signed by
O.J. Simpson in Jail while he was awaiting trial on the double murders of Nicole Brown Simpson and
Ron Goldman. O.J. Used the proceeds to raise funds for his defense.

These are the same exact books that O.J. attempted to steal during the armed robbery at the Las Vegas
Palace Station Hotel in 2008. They were obtained by Hyaena Gallery from Thomas Riccio, an individual
who not only was actually there with O.J., but was a main player in the event itself and in the legal trial
that followed.

The criminal trial resulted in O.J. being found guilty of 10 counts that included robbery, conspiracy, assault,
and kidnapping and he was sentenced to 33 years in prison.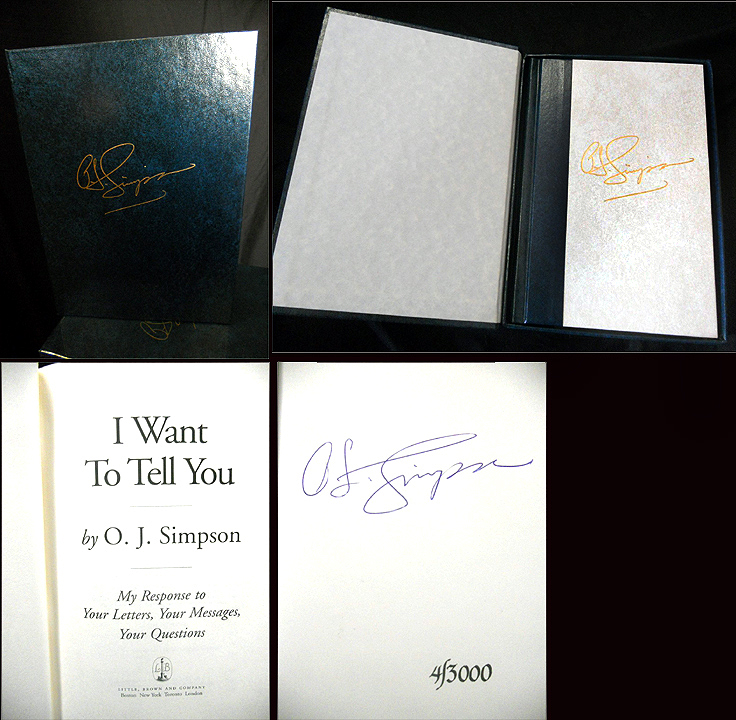 "I Want To Tell you"
by O.J. Simpson
signed/numbered book
hardcover with case
FIRST EDITION
limited edition of 3000
$120.00




To purchase a piece, or for more information...Please Click Here

- Click Here to see True Crime items that have previously been Sold -


Go Back to the True Crime Menu