Clint Carney's
- Art Autopsy -
Wednesday, October 23rd
7pm-10pm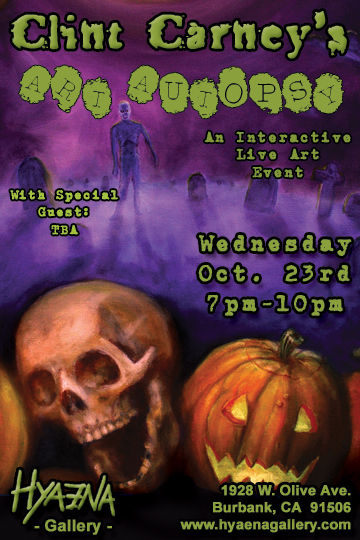 Clint Carney's Art Autopsy.

Clint Carney (of System Syn, God Module, &
Imperative Reaction) hosts Art Autopsy, a new monthly
interactive live art experience. Each event features
Clint creating original artwork alongside several
guest artists. This event is FREE and open to the public.
We're offering everyone an opportunity to meet
your favorite artists in an intimate setting where you
can actually be the first to see and purchase artwork
as it is created. So don't be shy…
Join us and observe while the artists work,
ask questions, discuss techniques, and be a part
of the artistic family we have built up here at Hyaena.

This month's Guest Artist:
TBA

Are you an artist, too?
Any artists are also encouraged to come as well -
bring your own materials and work alongside
the artists you've seen on our walls for years
(seating is very limited so plan accordingly & bring your own chair).
Show us your creativity in a supportive, fun environment.
Be part of the Hyaena community…
Together we can take down the largest of beasts.
To see artwork from Clint Carney...Please Click Here